Kô & Kó, os dois esquimós
Alcobaça
16 September 2019, 10:00am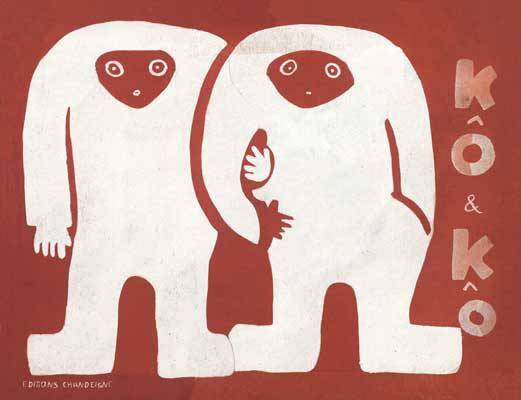 A white head with two blue squares, it is the hut of KÔ and KÔ, the two Eskimos. They go out and venture on the snow plain in search for the SUN.
They will go to PORT-MÉRIDIONAL.
On the way, they meet the PENGUINS, the SURLY-BEAR, the SEALS, the GREAT-SPAN-BIRD, the little girls SAPINETTES, the DESOLATE-FELLOW, the SIX-LEGGED-HORSE ... as well as two lift-angels!


Designed and created by the famous painter Maria Helena Vieira da Silva (1908-1992) and the writer Pierre Guegen, the original work was published by Jeanne Bucher Gallery in 1933.
The poetry of the story, its surrealist appearance, the beauty of the drawings and the evocation of the landscapes through the fairy-tale characters have drawn the attention of the composer Sérgio Azevedo and the pianist Bruno Belthoise.
Editions Chandeigne will publish a new edition of the story of Vieira da Silva, Kô & Kô the two Eskimos, in the form of a book-disc which will be edited in November 2019. Maria de Medeiros will lend his voice to the narration of the tale.
Produced by Les Nouveaux Talents association, this project will be staged in Paris on December 15, 2019 before being taken again in concert in France and Portugal in 2020. For this show, the video director Maud Alessandrini is realizing a live animation of the characters of the book from the original drawings of Vieira da Silva. Evolving on landscapes that the painter wanted as a theatrical setting, the two Eskimos and their friends follow their adventures, carried by the music and the narration of this extraordinary poetic story.


FREE SHOW


Please register at info@arteinstitute.org

More benefits with the RHI Membership